General Ledger forms the nucleus of the system and integration, on-line or batch, is user defined. The system uses the powerful "add-to" account structure enabling you to form a meaningful, structured chart of accounts.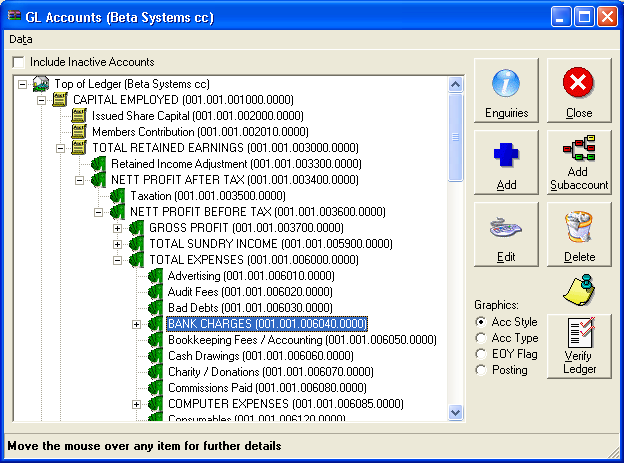 You may specify the number of years to retain information and the number of prior years to keep "open" for closing journal entries.
The General Ledger is Multi Company and Multi Branch/Division and provides for consolidation of companies in the report writer. There is a facility to duplicate a company or branch/division chart of accounts.
A sample PTY and CC chart of accounts is available as well as sample balance sheet and income statement reports.
Some of the outstanding features of the General Ledger are:
Search by account number or description throughout the system
Chart of Accounts Wizard to create your Chart of Accounts quickly and easily
Quantities as well as Values
Explorer Style view of the account hierarchy
Graphical view of important account information:

Debit / Credit
Income Statement / Balance Sheet
Hold / Zero
Posting / Non Posting

Quick Access accounts for accounts you use every day
Automatic Split Postings based on a percentage or value
Budgets and Forecasts
Ability to Copy Budgets and Forecasts between Years, with a Percentage increase
Full on-screen enquiries
Granular Control over Interfacing other Ledgers
Batches can be consolidated to reduce transactions
Standing Batches (Journal or Accrual)
Automatic reversals of Accrual type batches
Ability to re-open a period
Ability to "Audit Close" a year, so it can no longer be re-opened
Full Report Writer

Control how amounts are rounded
Full Font Control
Specify the Fields Across to be printed
Full set of arithmetic functions
Comparative Accounts
Full set of user-defined Accumulators

Cross Branch GL Verification Report